Business intelligence solutions in India are now a necessity for every company to stay competitive. Regardless of size or stage, businesses require Business intelligence tools to make informed and intelligent decisions, manage and analyze data, and visualize reports to maximize revenue outcomes. 
The main advantage of utilizing Business Intelligence solutions in India is its ability to offer customized solutions that are tailored to the company's specific needs and business objectives. With the help of business intelligence and analytics in 2023, companies can monitor every impact and make data-driven decisions to achieve their goals.
Data analytics are critical in developing effective plans to achieve business goals. Business intelligence systems provide direction and aid in making informed decisions based on analysed data. Through analysing the latest market trends, BI software assists companies in developing new strategies and staying ahead of competitors. By utilising data-driven reports, companies can identify new opportunities and ensure customer satisfaction. Business intelligence solutions in India optimises client service, improves productivity, and tracks all data in real-time from anywhere. Let's get started.
What is Business Intelligence (BI)?
Business intelligence (BI) is a technology-driven approach that involves analysing data, converting it into useful knowledge, and presenting comprehensive information to aid managers, executives, and other business leaders in making quick, accurate, and profitable business decisions. This approach employs a variety of tools, techniques, and applications, including data mining, online analysis, reports, queries, and risk analysis. The goal is to provide relevant and reliable information to the appropriate stakeholders at the right time, resulting in more efficient and quicker outcomes. 
BI works by accessing and extracting information stored in databases, cleaning and organising it, and transforming it into actionable and relevant insights that assist in making better business decisions. The data sources used in this process can come from various areas such as sales analysis, marketing research, operational performance, customer relationship management software, supply chain systems, and other supply chain information. Let's explore this further.
Why is Business Intelligence Important?
Business intelligence primarily aims to aid business units, managers, high-level executives, and personnel in making more informed decisions based on accurate data. This involves identifying potential opportunities for business growth, reducing costs, and pinpointing inefficient processes that may require redesign. The software for business intelligence utilizes algorithms to extract valuable insights from an organisation's data and inform its strategic decision-making. Users of business intelligence analyse their data through dashboards and other reports to present detailed information in a more comprehensible manner.
How Does Business Intelligence Work?
Many companies struggle with managing data stored across multiple locations, making it difficult to effectively consolidate information. Business intelligence (BI) tools can offer decision-makers quick and accurate insights from various data sources, without relying on IT for complex reporting. These sources may include sales and marketing analytics, operational performance, customer relationship management systems (such as Salesforce), and supply chain data. By integrating all of these sources, BI software can present current, historical, and predicted views to support business planning. Companies should assess their existing data processing, integration, and information-sharing methods to determine how BI can best fit into their operations.
Firstly, by determining their objectives and devising strategies for implementing the new system, companies can move forward.
Secondly, BI software can be implemented in stages to create a custom solution. Companies can start with customer data and then gradually move on to financial data or other specific data points.
This approach is more manageable for most companies because they can focus on particular data points at a given time, without getting overwhelmed by a large amount of data all at once.
Top 7 Benefits of Business Intelligence & Analytics in 2022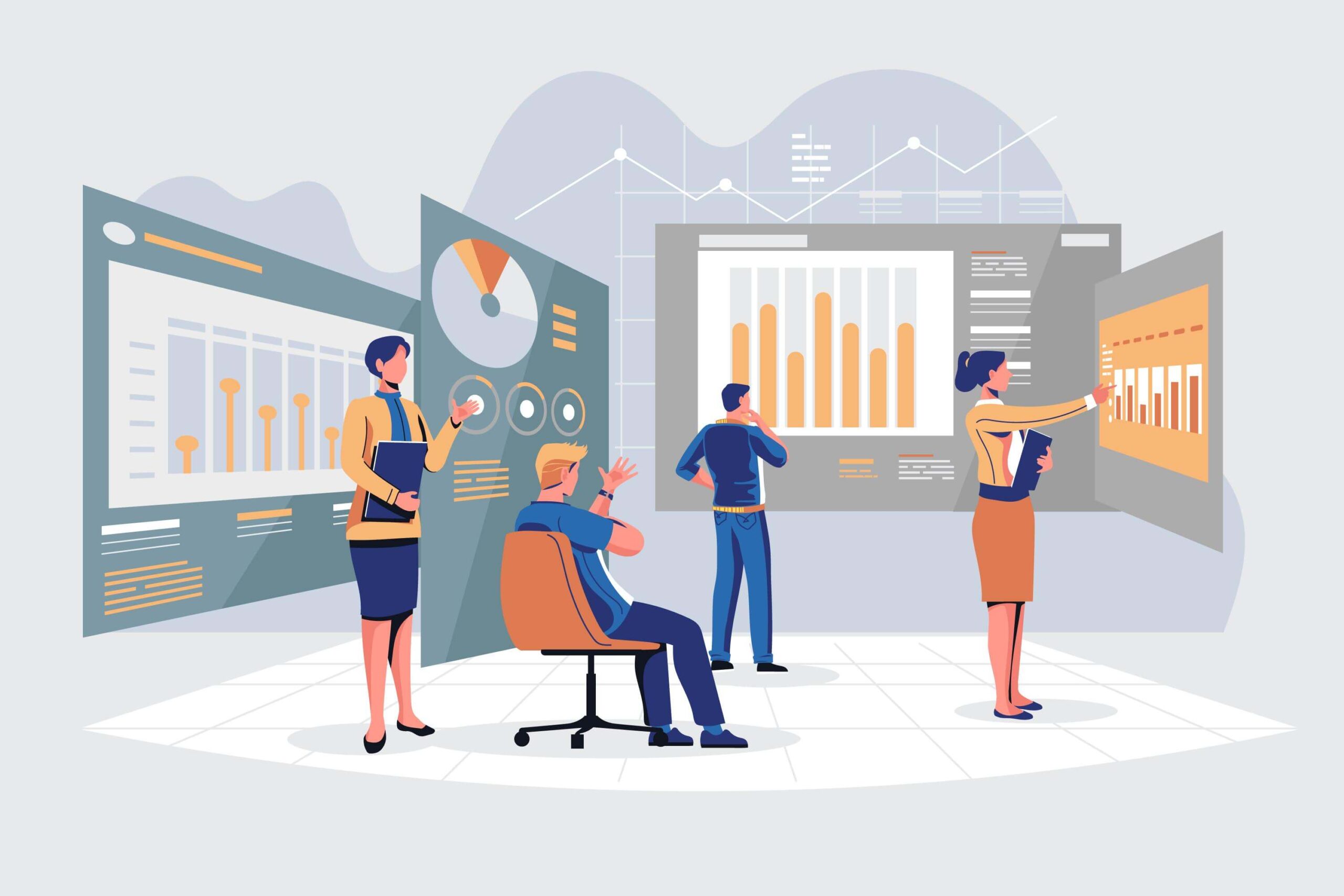 Here are seven examples that illustrate various benefits of business intelligence & analytics solutions in India.
1. Useful Business Data: 
BI tools help organisations understand what's working and what's not by measuring employees' productivity, revenue, and departmental performance. This aids in identifying weaknesses and strengths.
2. Quick and Accurate Reporting: 
BI & analytics solutions produce real-time reports with easy-to-read visuals such as graphs, charts, tables, and graphs. Users can customise templates and reports to track KPIs and gain access to information quickly.
3. Better Data Quality: 
BI tools can aggregate different data sources to improve data quality and provide a clearer picture of what's happening within the organisation.
4. Competitive Analysis: 
BI tools help businesses stay ahead of the competition by managing and altering a large amount of data, budgeting, planning, and forecasting. Companies can also monitor their competitors' marketing and sales results to distinguish their products and services.
5. Enhanced Efficiency in Operation: 
BI tools integrate various data sources, improving overall efficiency and allowing employees and managers to focus on delivering timely and accurate reports.
6. More Revenue: 
BI tools help companies grow revenue by identifying weaknesses in sales and improving business processes. By paying attention to customers and competitors, companies can make better decisions and increase revenue.
7. Accurate and Improved Decisions: 
BI tools provide stakeholders with accurate and timely information, reducing the time it takes to make decisions.
Conclusion
To sum up, when utilised correctly, Business Intelligence solutions in India can bring about various advantages such as enhanced business decision-making, accurate insights into an organization's current, past, and future, minimized waste and guesswork, streamlined inventory management, and heightened sales intelligence. The compelling amalgamation of features and benefits offered by BI solutions can give a company a competitive advantage that can prove to be the deciding factor.